Donair Eggs Benedict at The Foggy Goggle
I am a firm believer that more people need to interact with the world around them rather than just accepting things as they are. When The Foggy Goggle mentioned on Twitter that they had both Lobster or Arugula Avocado Benny, I was quick to suggest that they do donair eggs benedict as well.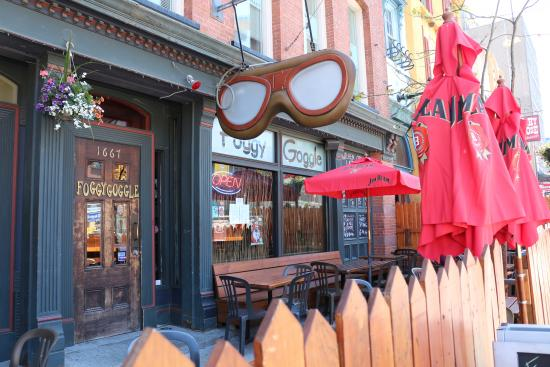 Guess what? they did.
The Foggy Goggle is one of those pubs that everyone needs to visit when they travel to Halifax. Their food is outstanding, comforting, and always has that little twist that makes it memorable. They don't have a deep fryer in the kitchen, which just makes things that much more interesting. They even make their own donair meat on-site, an impressive undertaking.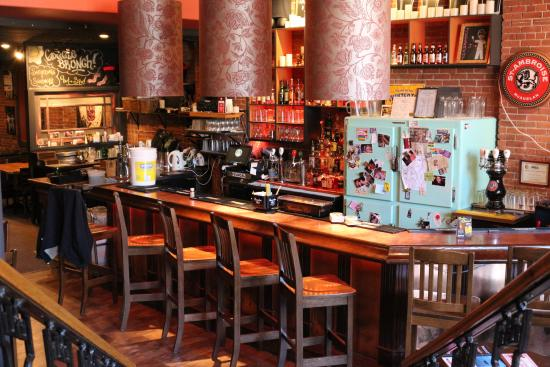 Ordering the donair benny was a little tricky; they don't make it all the time and instead have it as a special. Their other specials - lobster benny, for example - are all equally as interesting.
The smell that hit me when this plate of nirvana was set in front of me was just wonderful. The taters smelled warm and inviting, the eggs benedict had that gentle hollandaise scent to them - everything just worked together to befriend your nostrils. Nothing overdone, nothing missing, this was a package that had been assembled by an expert.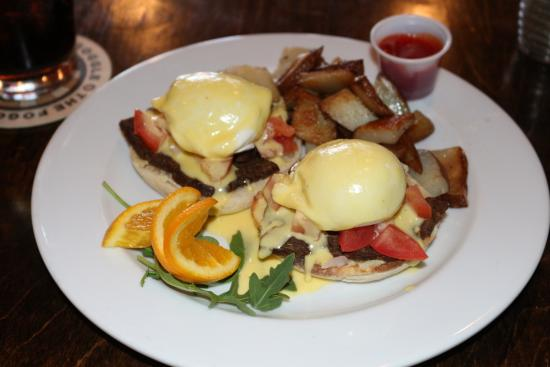 I've always been impressed with any of the potato dishes the Foggy Goggle cooks up, since they manage to get them right every time and don't use a deep fryer. These spuds are no exception, cooked just the right amount so that they perfectly straddle the line between undercooked and mushy. Perhaps The Foggy Goggle has a potato whisperer on staff?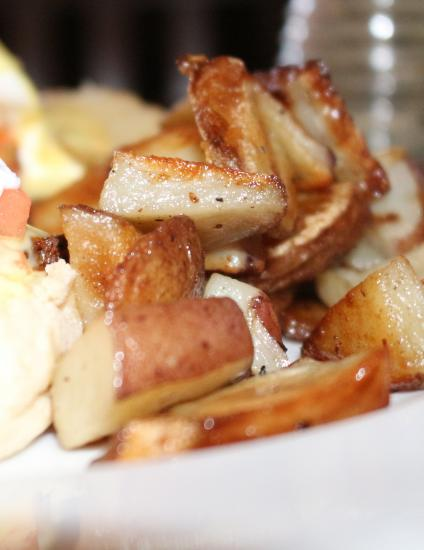 Another reason to love the Goggle's taters - they don't oversalt them, leaving it up to whoever's devouring the dish to salt the taters as they see fit.
The made-in-house donair meat was near textbook perfect. (unrelated - if someone finds a donair textbook, let me know.) It had a spicy kick to it that most donair doesnt, but it worked very well with the comforting taste of the eggs benedict. Onions and tomatoes were in reasonably equal proportion, just as they should be.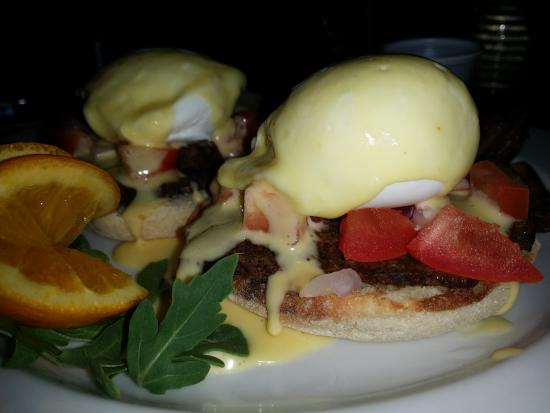 The hollandaise sauce was neither in such short supply that anything was dry and not so prevalent that I was feeling the need to throw the egg a life preserver lest it sink. Hollandaise sauce is really just breakfast donair sauce and if ever that statement was put to the test, this dish may just prove it to be true.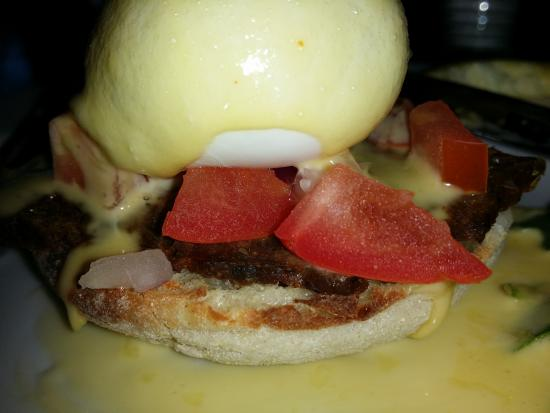 If ever you feel the craving for an early morning donair - this may just be your best option for something awesome.
The Foggy Goggle
1667 Argyle Street
902-444-1414
thefoggygoggle@gmail.com