Donair glamour for those that need it
You're headed out on the town, perhaps over to a friend's place, perhaps to Halifax's downtown scene, and you (naturally) need to differentiate yourself from everyone else. Why not throw a little donair into the mix?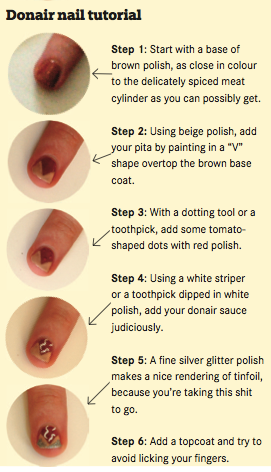 How could it get any more tasty than this?
I was reading The Coast yesterday, and came across this photo which made me do a bit of a double take - someone had done their nails as donairs.
Just imagine that for a moment. You could call yourself finger licking good! I'm not sure this would be good for anyone who bites their fingernails, or who's on a diet - it would certainly make me hungry more often than not.
If you ever do your nails this way, I'd love to get some photos of the whole process and the finished result. I can't promise you fame and fortune... unless your nails on donair.org counts!
Need your nails done by a nail superstar? Find @stephaniejohns on Twitter.